Panel—Doors Wide Open: Advancing Inclusive Access to Special Collections
Panel—CARL Conference 2020 ALIGN Interest Group Showcase
On 5 June 2020, ALIGN presented a panel on "Reference Services in an Age of Metamorphosis" for its Interest Group Showcase at the CARL 2020 Virtual Conference. The panel session featured speakers from three different university libraries, who shared the different ways they have been studying the research experiences and service preferences of their users in order to reconfigure or enhance their reference services to better serve the changing needs of their students and researchers.

Rebecca Metzger and Kristen LaBonte of UC Santa Barbara described how their library recently merged its reference and circulation service desks, and they shared the goals, process, and challenges involved in implementing this major change and how they expect their service model for reference to evolve over time.

Megan Graewingholt of CSU Fullerton discussed her library's recent project to use iPads to survey user feedback at the walk-in reference desk, in order to determine if current library practices were meeting the needs of students, faculty, and community patrons.

And Dr Philip Longo, Writing Program lecturer at UC Santa Cruz, described the results of a major assessment of information-literacy learning outcomes from a study of 2,000 students in a general education research-based writing course at his university. Results from the study tell which library services and resources students use and when, and how they might benefit from better integration of these resources and services into their courses.

A lively question-and-answer session followed our speakers' presentations and could easily have exceeded the time allotted for our program.

See the video recording of the entire session.
Late-summer field trip—
UC Davis's Mondavi Institute for Wine & Food Sciences
+ Shields Library Food & Wine Collections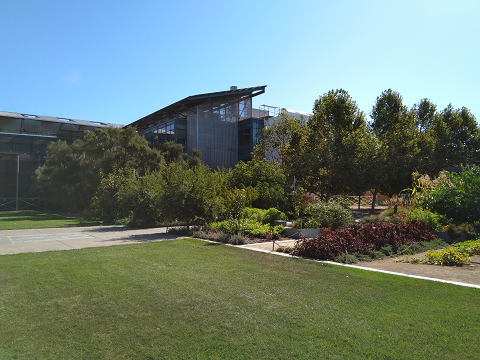 Wines, Mondavi Institute Special Collections Room


Axel Borg, Agriculture, Food, & Wine Librarian—afternoon tour guide


Touring Shields Library Special Collections with Assistant Jenny Hodge


Detail from a title on the therapeutic uses of chocolate 'and other balsams', 1644


Deed to a vineyard, from the will of Ximenes Petri,
Tudela, Navarre province, northern Spain, 13 September 1287


Event—CARL Conference 2018 ALIGN Interest Group Showcase panel
Demand-driven Acquisition: Saviour, False Prophet, or Mere Mortal?
Panellists:
Ann Roll, Collection Development Librarian, CSU Fullerton
Kerry Scott, Associate University Librarian for Collections & Services, UC Santa Cruz
Chris Shaffer, University Librarian, UC San Francisco
Summer field trip—
Golden Gate National Recreation Area Archives + Internet Archive
Amanda Williford, GGNRA Archives curator and reference archivist


Attendees view historical maps in GGNRA collection


Listening to Internet Archive's Roger Macdonald, Director, Television Archive


One of Internet Archive's several server arrays


Stained-glass skylight of former church


Workshop — Connecting Pedagogies: Accelerating Impact with Service Learning and Information Literacy
ALIGN and Santa Clara University cordially invite you to a workshop on the intersection of service learning and information literacy, presented by SCU University Librarian Jennifer Nutefall and American University Associate Director of Instruction & Research Services Alex Hodges:

9.30am–1pm
Friday
18 November 2016
St Clare Room
University Library
Santa Clara University

Attendees will learn how to connect service learning and information literacy through the use of the Framework for Information Literacy for Higher Education.
Full details available by downloading the flyer.
Reserve your seat by contacting Ken Lyons (kbplyons@ucsc.edu).

Please plan to join us!
SCU's Orradre Library and Learning Commons


Library interior


Attendees tour Library Special Collections


1885 first edition of Memorial Poem to Charles Darwin


Original 1896 edition of The Works of Geoffrey Chaucer
from William Morris's Kelmscott Press


Workshop presenters and attendees


All event images courtesy ALIGN Registrar Laura Meriwether
Event — CARL Conference 2016 ALIGN Interest Group Showcase
Curious about CARL's newest Interest Group, ALIGN? Come meet us and hear about our first event, at CARL Conference 2016's IG Showcase, 11.30am–12.45pm, Saturday, 2 April. Hope to see you there!
Event — A Tour of UCSC's Renovated McHenry Library
ALIGN welcomes you to tour UC Santa Cruz's recently renovated McHenry Library on March 11, 2016. Learn about its user-focused planning and design and the continual assessment of library space here. Please download flyer for more details.

South side of McHenry Library


University Librarian Elizabeth Cowell welcomes attendees


Assessment & Planning librarian Greg Careaga details renovation project



Attendees on library tour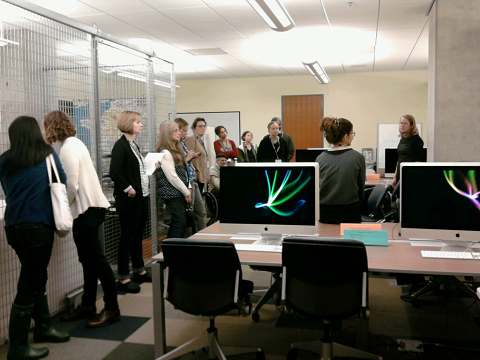 Visting new Digital Scholarship Commons



Grateful Dead archivist Nicholas Meriwether presents
Dead Central exhibit space



Spring at McHenry Library